Aura Satz: The Future Waters of the Storm Surge
The Future Waters of the Storm Surge





'The Future Waters of the Storm Surge', film still 2022

,



The Future Waters of the Storm Surge
A film featuring sound by BJ Nilsen
Sonic Acts Festival, Amsterdam, 15-16 October 2022

Aura Satz collaborates with field recordist and electronic music composer BJ Nilsen to explore a wall of sirens framed within a storm surge barrier in the Netherlands. Measuring nearly eight kilometres in length, the Oosterscheldekering barrier, serving also as a bridge, is a special dam that connects the Zeeland islands of Schouwen-Duiveland and Noord-Beveland. The siren is embedded within this preventive architecture, an integral part of a complex web of infrastructures that imagine future threats. The sound of this siren forges an invisible line across an unstable horizon, speaking to the centrifugal chaos of storms to come.

https://sonicacts.com/biennial/biennial-2022/programme/preemptive-listening
https://sonicacts.com/news/news-futurewatersofthestormsurgepremiere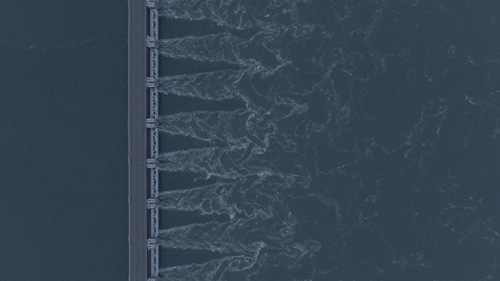 The Future Waters of the Storm Surge, film still, 2022
7 Dec 2022
Screening at Kino Moviemento, Berlin as part of Kontraklang
Films and music by Olivia Block, Gunilla Skold Feiler & Dror Feiler, Martin Grutter & Aron Kitzig, Christian Kesten, Patricia Martínez & Luis Paris, Makiko Nishikaze, Michiko Ogawa & Manuel Pessoa de Lima, Lis Rhodes, Julia Rommel, Aura Satz & BJ Nilsen

CREDITS:
Directed, written and edited by Aura Satz
Music and site specific field recordings by BJ Nilsen
Drone operator Veerdonk Visuals
Produced by LONO studio
Production Assistant Erika Roux
Sonic Acts Researcher Victoria Douka-Doukopoulou
Colour grading Misha Kim
Special Thanks to Eric Vander Weegen and staff at Oosterscheldekering; Maud Seuntjens and Anne van Waveren at Sonic Acts
The film is commissioned by Sonic Acts